Desert Fox
$369.95
FEATURES OF THE DESERT FOX AUTOMATIC GOLD PANNING MACHINE…
The Desert Fox spiral wheel has seven separate spirals which pick up gold seven times with each rotation of the wheel. All seven spirals end at the center tube-shaft. The seven spirals dump gold into this tube-shaft and into a hanging gold catch-cup at the other end. This method is far superior to other types of spiral wheels which do not pass the gold through the wheel into a hanging cup.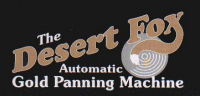 The Desert Fox wheel with it's pitch adjustment and water spray system, allows the operator to "tune out" the black sand which is nearly always present with placer gold. Machines with a cup in the center of the wheel depend on the gold displacing any black sand and the operator must splash water by hand to complete the clean up process. This type of machine is much slower than the Desert Fox because it has only one spiral lead and the need to splash water by hand.
Another important feature exclusive with the Desert Fox is it's sealed ball bearing. Gold panning machines are subject to a muddy water environment. All competitive machines have sleeve bearings and at least one has the bearing running under water. The limited warranty on this type of machine is one year or less. The Desert Fox has a FIVE YEAR LIMITED WARRANTY when purchased through an authorized dealer or direct from the factory.
Machines purchased at auction sites are NOT warranted because we cannot control the condition or age of the machine. If you purchase a machine from an auction you will not receive a factory warranty even if the seller is an authorized dealer..
OTHER IMPORTANT FEATURES
The Aqua Jet spray tube keeps the sand in the wheel in suspension so that the gold drops out faster.
The Tailings Tray catches 5 pounds of tailings to minimize time lost in case of an operator's mistake.
The Action Packer carrying case doubles as a water reservoir.
The bilge pump re-circulates 3 gallons of water so that the machine can be used in dry areas.
The Desert Fox can be removed from the Action Packer and used directly in a stream.
Additional information
| | |
| --- | --- |
| Weight | 10 lbs |
| Dimensions | 21 x 15 x 13 in |